Stream Improvement or Creation



Not all streams and rivers are created equal. In our time working in the private sector, we have had the opportunity to implement a variety of stream habitat improvement projects. Freestone streams provide a different opportunity and a different set of criteria for improvement than do spring creeks. When developing an improvement plan, we evaluate a river or stream based on its specific characteristics. Techniques that may prove effective in one stream may not be appropriate for implementation on another, or even on a separate reach of the same stream. As with most improvement projects, habitat enhancement of streams or rivers is typically initiated with the intent of rectifying one or more existing problems. Whether a stream has been adversely affected by development, erosion or overgrazing, we are confident that we can realize the natural potential of the stream in a structurally, hydrologically and biologically sound fashion.

Our personnel have been involved in numerous fish habitat enhancement projects on Montana streams and rivers, including Baker Creek, the Ruby River, Big Sheep Creek, the Gallatin River, the Beaverhead River, Mill Creek, Sweet Grass Creek, the Boulder River, Bridger Creek, Cherry Creek and Sixteen Mile Creek. Other projects have been completed in New Mexico on the Pecos River, in Wyoming on the Middle Fork of Crazy Woman Creek and in the Wood River drainage of Oregon.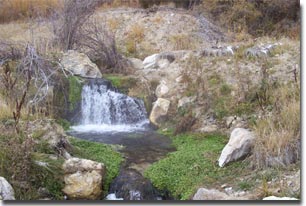 Not all streams and rivers provide a template for optimal improvement as they exist, while some recreational properties may not contain any type of flowing water at all. For these reasons, we also design and construct entirely new streams or stream sections. Some of these streams are designed to provide trout spawning habitat for a pond, lake or larger stream or river. They can be supplied with flowing water by various means, depending on site characteristics and client preferences.
Often, small streams have been channelized, straightened or rerouted in the past to accommodate agricultural production or development. Improvement efforts in these situations may include lengthening of the stream to provide proper channel slope and profile, as well as improved trout habitat. In nearly all cases, stream construction projects also include creation or improvement of the riparian zone adjacent to the channel to ensure that the end product is a healthy, balanced ecosystem. By using natural materials to implement these projects, we can provide clientele with a product that is as aesthetically pleasing as it is functional.